Dental Crowns – Ormond Beach, FL
A Reliable Solution for Damaged or Decayed Teeth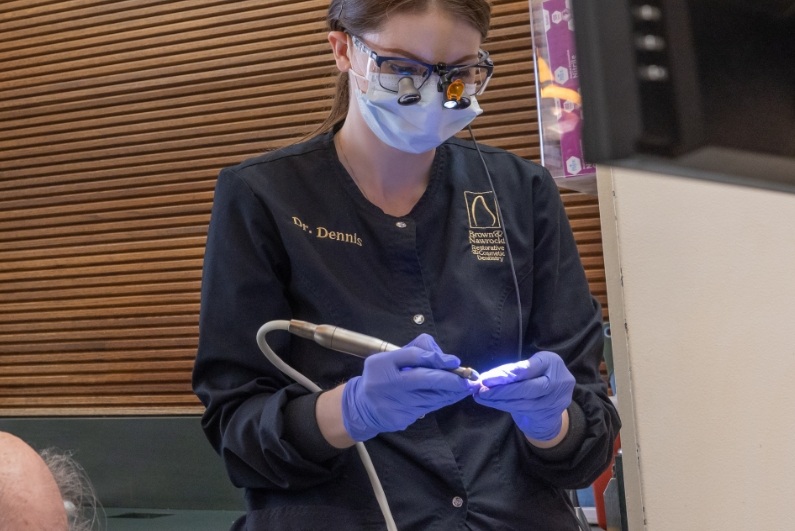 Is your tooth significantly damaged or missing altogether? You'll need a restorative solution to keep your smile looking beautiful and healthy. Well, dental crowns have been one of the most popular and effective restorative treatments for decades. Dr. Andrew Nawrocki, Dr. Kimberly Dennis, and the rest of our team always take the time to ensure your restoration looks natural, feels comfortable, and protects your smile from damage for years to come. Contact our office today to make your smile good as new again!
What is a Dental Crown?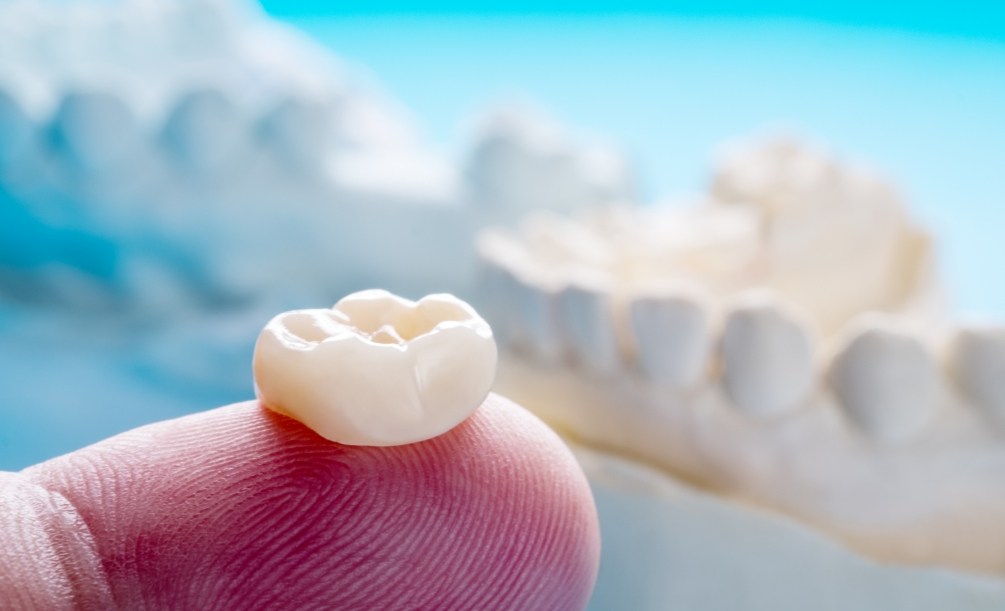 A dental crown is a custom-made covering that fits over a tooth that is decayed, damaged, or cracked. While crowns can be made from a variety of materials, such as gold, dentists today have been increasingly switching to metal-free materials, such as ceramic or porcelain. These tooth-colored materials can be customized to blend in with the rest of your smile so that no one outside of our team even has to know you had dental work done!
The most common reason to place a dental crown is when decay has damaged a tooth to the degree where a filling is not enough to restore it. However, teeth that are cracked, chipped, or otherwise broken due to injury may also require a crown. These personalized restorations are designed to protect against future damage, but they can also be used to cover a dental implant or protect a tooth that has been treated with root canal therapy.
The Process of Getting a Dental Crown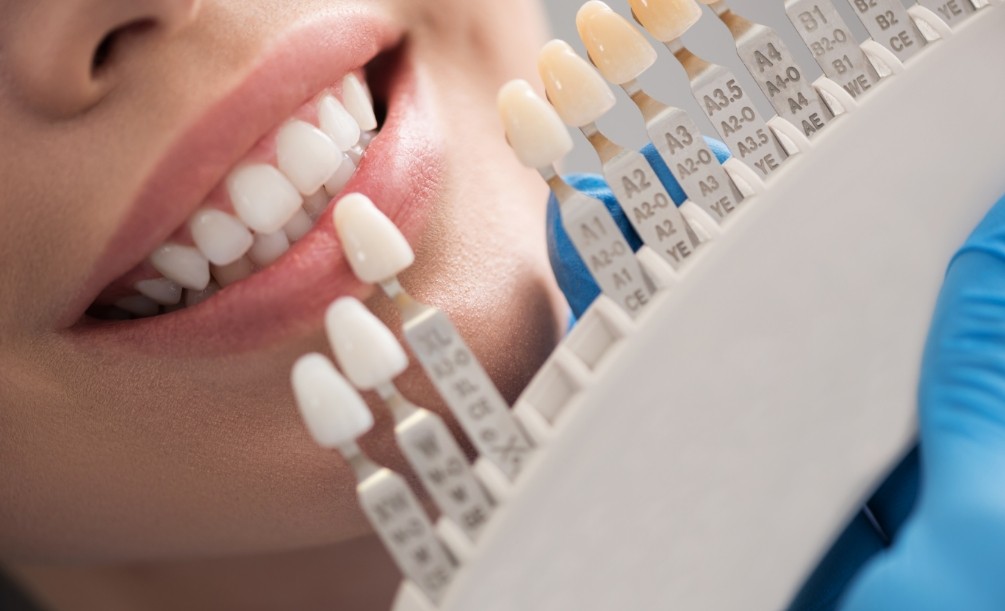 The first step on your journey towards a restored smile is a consultation with our team. We'll conduct an oral examination to determine whether or not a dental crown is necessary to treat your problem. If it's needed, we'll walk you through the process before beginning treatment.
In preparation for the crown, we'll remove a thin layer of enamel to ensure it lays flush with the surrounding teeth once it's secure. Then, we'll take an impression of your tooth to send it off to the dental laboratory that will make your restoration. While your permanent crown is being made, you'll wear a temporary one to protect your tooth.
Once we receive your permanent crown, we'll call you back into our office, remove your temporary crown, and replace it with your final one. Before you live the clinic, we'll thoroughly explain how to properly care for and maintain your restoration so you can enjoy it for years to come.
The Benefits of Getting a Dental Crown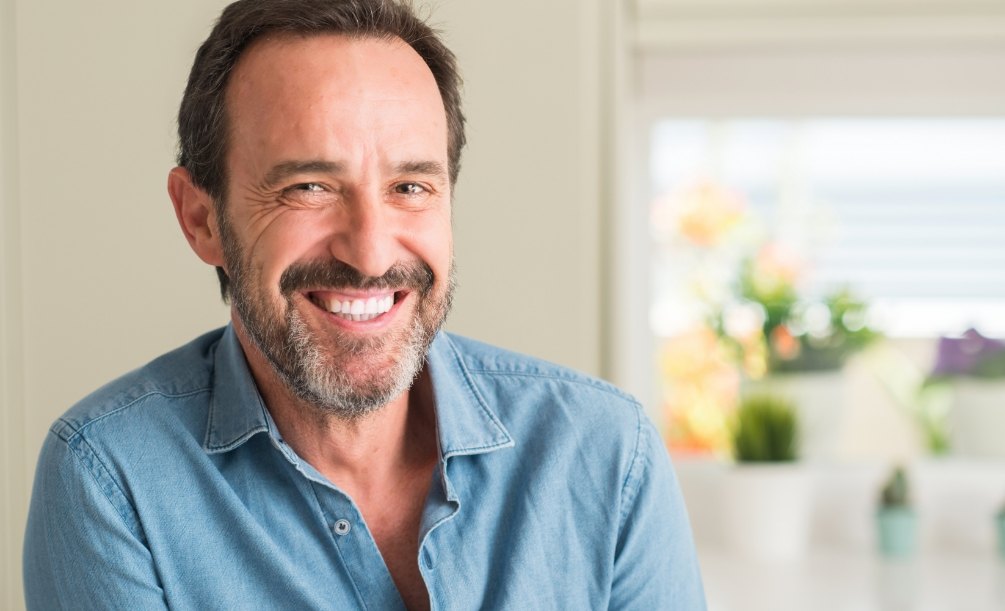 The primary benefit of dental crowns is their ability to restore your tooth to its full function. Without the protection of a crown, your tooth would continue to be exposed to damage until it has to be extracted. Since missing teeth come with a whole host of oral health problems, it's always best to heal a tooth whenever possible instead of removing it.
In addition, dental crowns can improve your bite by evening it out. If left untreated, uneven bites can place unnecessary stress on your jaw joints and speed up the wear and tear on your tooth enamel, increasing your risk of cavities and sensitivity.
Dental Crowns FAQs
As one of the most versatile treatments in the entire field of dentistry, dental crowns are quite common. Even with the wealth of information available online, you might still have some concerns or confusion about dental crowns in Ormond Beach. Our team at Brown & Nawrocki Restorative & Cosmetic Dentistry is here to set the record straight by answering a few of the most frequently asked questions about dental crowns. Of course, we'd love to answer any questions you may still have during your visit!
Read More
Are Dental Crowns Permanent?
While not permanent per se, dental crowns are considered an irreversible procedure. That's because we'll need to remove a thin layer of enamel from the tooth in order to create enough room for the crown. Tooth enamel doesn't regenerate after it has been lost, meaning that tooth will always need to be covered with a crown from that point on. With that being said, the crown protects your tooth from sustaining even more damage, so there's a good chance that the tooth will end up lasting even longer than it would have without the crown.
How Long Do Dental Crowns Last?
The average dental crown lasts somewhere between five and 15 years, but yours could last for a shorter or longer length of time depending on how well you take care of it. As a rule of thumb, caring for a crowned tooth is pretty much the same as caring for any other tooth. You'll want to brush and floss daily, visit our office for regular checkups and cleanings, and avoid bad dental habits like smoking. You should also steer clear of excessively hard or chewy foods, as they could break or loosen your crown.
Do Dental Crowns Feel Natural?
Once your permanent crown has been placed, it should soon feel like a natural part of your smile. It will be made from durable materials that can withstand chewing forces just as easily as tooth enamel, so eating with it shouldn't feel any different. Additionally, your crown should fit right in with your overall arch because we will have reshaped the underlying tooth ahead of time. With the impressions that we've taken of your mouth, you can rest easy knowing that each crown is custom-made to feel as lifelike as possible. In fact, you might eventually forget that you even have a crown!
Are Dental Crowns Covered by Insurance?
Every dental insurance plan is different, but most of them will cover crowns to some extent as long as you're getting the treatment for medically necessary reasons, such as repairing a broken tooth. You might not qualify for coverage if you're only getting a crown to cover up a cosmetic imperfection.
Dental insurance providers often consider crowns to be a major restorative treatment, so they're typically eligible for about 50% coverage after you've met your deductible and before you've reached your annual maximum. Of course, this varies from plan to plan, but our team can help you navigate your insurance coverage. We'll even file claims on your behalf to make the process of saving on your care easier.