Dentures – Ormond Beach, FL
What Are Dentures?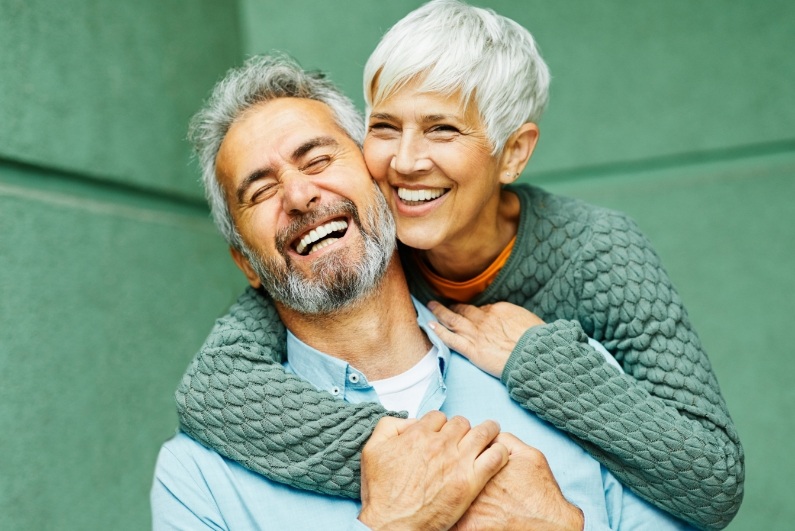 Periodontal disease, injury, tooth decay or the way you bite your teeth together can all cause a loss of your natural teeth. However, the Brown & Nawrocki Restorative & Cosmetic Dentistry team can put the smile back on your face with custom made partial or full dentures to restore your missing teeth. With the latest denture techniques, technologies, and materials, we can now make your replacement teeth comfortable and natural looking and functioning. If you're ready to find out more, call Brown & Nawrocki Restorative & Cosmetic Dentistry to schedule a tooth replacement consultation in our state-of-the-art Ormond Beach dental office. We'll help you to recreate your flawless smile.
Types of Dentures
There are a number of different types of dentures, and we will partner with you to determine which form you need to repair your smile. With your new dentures, speaking and eating may feel different at first, but these regular activities will resume normally once you are accustomed to your new teeth. During your tooth replacement consultation, we'll review your available treatment options, and help you to find the best restoration solution to meet your needs. The most common denture tooth replacement options include the following:
Partial Dentures with their metal framework, replace multiple consecutive or nonconsecutive missing teeth. They are supported through clasps that attach them to surrounding healthy teeth.
Complete Dentures are used when it's necessary to replace all of the teeth on the upper, lower, or both arches. Because there are no healthy teeth to provide support, dentures are molded to fit against the gums. The close fit creates suction that holds a properly fitted denture in place.
For improved denture stability, we may recommend implant-retained dentures that restore the roots of the lost teeth providing close-to-natural function, ensuring the optimal level of oral health.
Immediate dentures allow patients to never be without a smile, even immediately after needed tooth extractions. These dentures are crafted in advance of preparatory tooth extractions and/or dental implant placement, and they're typically replaced with a custom restoration once the soft tissue has fully healed.
Benefits of Dentures
When even a single tooth is lost, your smile will experience a number of disadvantages, including shifting of surrounding teeth, diminished gum tissue volume and jawbone density, and changes in the function of your bite. Following the loss of numerous teeth, these issues are further compounded. Partial and full dentures allow patients to reclaim the healthy shape, appearance, and function of their smiles.
Determining Whether or Not You're a Candidate for Dentures
We always want to help patients preserve the greatest possible amount of healthy dental structure, so we will review your smile and help you to find the best tooth replacement solution. During a tooth replacement consultation, we'll examine your smile, review your restoration options, and help you to develop a tooth replacement plan that meets your needs.
Tips for New Denture Wearers
When you first get fitted for a partial or full denture, you may experience some difficulty adjusting to your new smile. Keep the following tips in mind to quickly improve your comfort and the function of your denture:
Practice eating foods, introducing first soft foods then increasingly more difficult to chew foods
Practice talking with your dentures in place by reading aloud to get used to the feel of your denture as you say specific words and phrases
Even if your denture feels uncomfortable at first, you should continue to wear it whenever you're awake to get used to the form and function
Take your dentures out during sleep to rest your jaw joints and soft tissue to avoid discomfort
Make sure to carefully clean your dentures on a daily basis